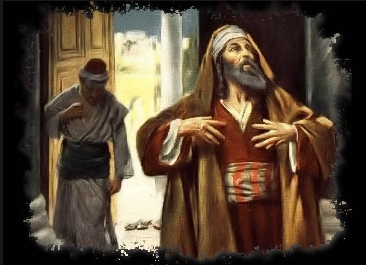 The Gospel 23rd October 2022
Alleluia
R. Alleluia, alleluia.
God was reconciling the world to himself in Christ,
and entrusting to us the message of salvation.
R. Alleluia, alleluia.
Gospel
Jesus addressed this parable
to those who were convinced of their own righteousness
and despised everyone else.
"Two people went up to the temple area to pray;
one was a Pharisee and the other was a tax collector.
The Pharisee took up his position and spoke this prayer to himself,
'O God, I thank you that I am not like the rest of humanity —
greedy, dishonest, adulterous — or even like this tax collector.
I fast twice a week, and I pay tithes on my whole income.'
But the tax collector stood off at a distance
and would not even raise his eyes to heaven
but beat his breast and prayed,
'O God, be merciful to me a sinner.'
I tell you, the latter went home justified, not the former;
for whoever exalts himself will be humbled,
and the one who humbles himself will be exalted."
REFLECTION
This Scripture passage is the introduction to the Parable of the Pharisee and Tax Collector.  This parable offers quite a contrast between two general attitudes.  First, the Pharisee's attitude reveals that he is very impressed with himself, thinking highly of his public image, and is unaware of his own sin.  Second, the tax collector's attitude reveals that he is deeply aware of his own sin, is sorry for it and knows he is in need of God's mercy.  The result of these two very different attitudes is that the tax collector went home justified whereas the Pharisee did not.
What does it mean to be justified?  It means that the tax collector had a clear conscience and was grounded in the truth.  He knew his need for mercy, begged for it and received it.  He did not lie to himself, to others or to God.  He knew who he was and it is this truth that allowed God to exalt him.  The tax collector's justification came through the forgiveness of his sins and the bestowal of the mercy of God in his life.
The Pharisee may have felt good about himself to a certain extent in that he elevated himself for all to see.  He was convinced of his own self-righteousness but, in truth, was not righteous.  He was only self-righteous.  He was living a lie and most likely believed that lie and even may have convinced others of that lie.  But the fact remained, the Pharisee was not righteous and he was not truly justified.
What we must take from this passage is a profound realization of the importance of living in the truth.  Those who paint a false image of themselves may fool themselves and may even fool others.  But they will never fool God and they will never be able to achieve true peace in their soul.  We each must realize the humble truth of our sin and weakness and, in that realization, beg for the only remedy – the mercy of God.
Reflect, today, upon the prayer of this tax collector: "O God, be merciful to me a sinner" (Luke 18:13).  Make it your prayer.  Admit your sin.  Acknowledge your need for the mercy of God and allow that mercy to exalt you within the righteousness of God.
Prayer to St. John Paul II
(Feast day – 22nd October 2022)
Oh, St. John Paul, from the window of heaven, grant us your blessing! Bless the Church that you loved and served and guided, courageously leading her along the paths of the world in order to bring Jesus to everyone and everyone to Jesus. Bless the young, who were your great passion. Help them dream again, help them look up to the heavens again to find the light that illuminates the paths of life here on earth.
May you bless each and every family! You warned of Satan's assault against this precious and indispensable divine spark that God lit on earth. St. John Paul, with your prayer, may you protect the family and every life that blossoms from the family.
Pray for the whole world, which is still marked by tensions, wars and injustice. You opposed war by invoking dialogue and planting the seeds of love: pray for us so that we may be tireless sowers of peace.
Oh St. John Paul, from heaven's window, where we see you beside Mary, send God's blessing down upon us all. Amen.
https://www.keashparish.ie/wp-content/uploads/2022/10/pharisee-and-publican-01.png
265
366
William Henry
https://www.keashparish.ie/wp-content/uploads/2023/05/keash-parish-logo2.png
William Henry
2022-10-22 19:44:56
2022-10-22 19:45:27
Gospel 23.10.2022