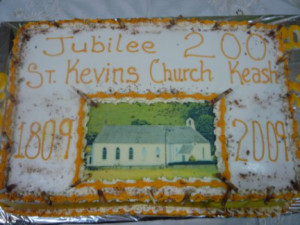 Saint Kevins Church (Keash) is one of the oldest chapels still in use in the diocese, dating from 1809 when Fr. Richard Fitzmaurice was parish priest. A small belfry was erected and blessed by Bishop Lyster in 1908. The two porches were built during the ministry of Fr. P.J O'Grady (1912 – 1920). The church was extensively renovated from 1977 to 1979 during Fr. John A. McGarry's time  when the roof was re-slated, the ceiling lowered and the wooden floor replaced with a cement and tiled floor.  The Church in Keash celebrated its Bi- Centenary in 2009. Bishop Brendan Kelly, Bishop of Achonry (at that time) celebrated mass to mark the occasion.
A grotto in honour of Our Lady of Lourdes was erected in the grounds of St Kevins Church in 1997, dedicated by the Henry family, Greenane (built by John P. Dwyer, Killavil).
Click below to see clips of Fr. Jim Finans Golden Jubilee (Courtesy of Fr. Sherlock), celebrated with mass in St. Kevins Church:-
—————————————————————
KEASH CHURCH ROOF REPORT
please click below:-
Saturday vigil: January, March, May, July, September and November.
(Summer months 8pm. Winter months 7pm.)
Sunday: 11.30am
Wednesday: 10am
Friday: 8pm.
*Weekday mass times subject to change
THE CORRAN HERALD • 2009/2010
Keash Church
By Martin A. Timoney
INTRODUCTION
Wandering through the Irish
countryside one is struck by the
number of churches and old graveyards
that are off the modern roads. Even
more surprising then that so many of
the churches in the parish of Keash
and Culfadda, formerly Drumrat
and Toomour, that are close to the
old medieval road from Ballymote
to Boyle, a road named on the 20th
century Ordnance Survey maps as
Bóthar an Chorainn, historically
believed to have been laid out by
Richard de Burgh, The Red Earl who
built Ballymote Castle around 1300.
This may have been the route taken
by O'Donnell, another Red Earl, on
the way to the Battle of the Curlews.
EARLY CHURCHES IN KEASH
Knockbrack, formerly
Drumrat, was founded by St. Fechin
of Billa, west of Collooney; he who
died c. 665-668 is more famous
as the founder of Ballisodare and
Fore. Some Early Christian slabs in
Knockbrack graveyard indicate an
early foundation but there are only
scant remains of a medieval building.
The church at Toomour is medieval,
it probably had a tower for residence
at the west end, but the Altar and its
slabs suggest an Early Christian date
for its foundation. St. Luidhigh of
Cill Easpaig Luidhigh seems to be the
Bishop Lugid who ordained St. Kevin
of Glendalough in the mid or late
6th century and the same Lughaidh,
Bishop of Tuaim-fobhair or Toomour.
From this association with a very
important ecclesiastical site the church
has been named St. Kevin's Church.
Teampull Ultan in Greenan still stands
but is architecturally uninformative;
an early pillar again suggests an early
date for the site. Templevanny too was
a circular Early Christian foundation;
quern fragments and metal slag have
been found there, but there is no trace
of the medieval building; it may have
had links to the Cistercian abbey in
Boyle. The church in Battlefield, a
long way off the medieval road, is
filled with stones collected from the
surroundings; a bullaun from there is
at Ballymote R.C. church. Just south
of Ballymote is Emlaghfad, Imblechfoda; St. Colmcille placed St. Eanna
there.
It would be wonderful to know
which of these sites was the earliest
but Toomour was the important site
chosen to give its saint's name, St.
Kevin, to the Keash church.
LATE USE OF MEDIEVAL
CHURCHES
The difficulty with finding
foundation dates for church sites is
surpassed by the difficulties of finding
when sites ceased as places of worship.
The Reformation and the Suppression
of Monasteries are cited as the death
knell and that thereafter mass rocks in
out of the way places were regarded
as being the norm. A band of Scottish
mercenaries, camped near Fenagh
Lake, destroyed several buildings,
including churches, in 1581.
However when we look
at the evidence mass was being
said in buildings, often called mass
houses. Some churches from earlier
times still had roofs; the drawing of
Court Abbey suggests that the south
transept was not long out of use in
1779. Prof. Stalley argues for a late
use of Ballindoon on Lough Arrow,
and Creevalea at Dromahaire; the
Dominican order has had an almost
continual presence in Sligo from 1252
with a church behind Burton St. from
1763. So churches were being used
and being built during the eighteenth
century.
CONFIRMING THE 1809 DATE
Turning to Keash church in
Fallougher confirming the date of its
erection by independent lines of proof
has been a challenging exercise.
"A:D 1809" is cut in a window sill.
The inscription in glass in the west
porch window reads "Pray for those
who built this church in 1809 and
those who restored it in 1979". What more would one want? Combined
these may have given a complacency
that the date was in fact 1809. In 2001
the date of 1809 was not researched
in depth for the parish history and
documents were not discovered. This
author, an arrival to the parish in 1985,
on the other hand, is looking for better
proof, proof independently derived
from different sources. Also the fact
that the date is cut on a window sill,
as opposed to over a doorway or on a
plaque giving more information in a
gable wall, is strange. It is positioned
opposite what was until recently the
only gate to the church for all entering
to see.
If there are no contemporary
sources, i.e., none from 1809, where
does one turn to? We have frequently
advised the young inexperienced,
and often over enthusiastic student,
that they are not the first to go down
any particular research road, and
what they write will not be the last.
Following up on the first point it took
some weeks and a flash of inspiration
in The National Library of Ireland
to bring me to realise that someone
subsequent to 1809 might have written
down something of use. All normal
sources seem to have nothing so
what of newspapers but that gave two
hundred years of potential sources and
an awful lot of searching. But then
there is never enough time! It has been
said that all problems can be reduced
to mathematical equations. In this
case the relevant equation seems to be
Year to Search = 1809 + 50N where
0≤N<4, or perhaps Year to Search = 1829 or 1979, though the latter has proved fruitless; simply the multiples of 50 years, The Year of Emancipation or the Year of Renovation. Fr. Richard FitzMaurice was P.P. here from 1796 to 1831; he was a native of Cloonagh and this agrees with the ownership of the lands as marked on the Palmerston NLI Ms 16F17 map of 1813-1814. He is credited with building the church. THE PRE-1809 CHURCH
There have been arguments
for two different locations for the
pre-1809 church, one in Fallougher
and the other in Cross. A few pieces
of information have come to light in
mid-2009 that help with the late 18th /
early 19th century churches in Keash.
The words 'Grave Yard' are
written beside Keash church on the
1837 OS map. These words have been
taken by some to imply that there was
a pre-1809 church here around which
a graveyard had developed. This may
refer to burials within the church but
if so it is most unusual on the maps for
Co. Sligo that such words be written
at a church on the map. At the time
of the Griffith Valuation published
in 1856 'R.C. Chapel and yard' and
'National school-house' are listed but
there is no mention of a graveyard;
the immediate lessor for the lands
surrounding the church was William
Phibbs, presumably of Corraddoo
between Carrowcrory and Ballinafad.
The words 'Grave Yard' on the map
must refer to burials at or within the
church, not in the adjacent field. Bones
have never been found in the field.
Most satisfying is the
handwritten note by Michael Francis
Regan of Carrownacreevy which
clearly reads "Keash Catholic Church
was built in Martin Keaveney's garden
until 1808. …… Lord Palmerstown."
(= Palmerston). The other items on
the pages relate to emigration and
deaths, dating to 1930 and 1934.
This pushed confirmation of the date
back to 1934 at least. The wording
of the note is good confirmation that
as far back as the early 1930s the
date for Keash church was held to
be 1809. It also establishes that the
pre-Fallougher church was in Cross
townland. A piece dated 1802 relates
to this church.
James Taheny, whose family
owned this land, confirmed a tradition
of a church in Keaveney's Garden in
Cross. This was the last field on the
north side of the road that leads into
Padraig Drury's in Knocknacroy. His
recollection is of a four-part building,
a three roomed house with a barn to
the mountain end. One wonders if
that building incorporated parts of
the church. There was a Pound on
the south side of the road in 1837 and
there may have been a horizontal mill
on the stream in Knocknacroy.
ESTATE MAPS
At 1808 the chances of a church
being mapped would be very slim as
local maps are rare. Cross was part of
the Palmerston Estate. The National
Library of Ireland map of 1813-1814,
16F17, does not show a church and
the additional handwritten pencilled
words have not been deciphered. The
map does show a long building. Cross
was still Palmerston land in 1862 and
the estate map, 16F21, shows James
Keaveney as having 11A 2R 30P Irish,
including a house. The building at the
townland boundary equates with that
on the 1813-1814 map. On neither
map is the building named as having
been a church. On both maps lines of
trees surround the house, reflecting
the name Keaveney's Garden.
18th and 19th CENTURY CHURCHES
Bishop Patrick McNicholas,
Bishop March 1818 to February 1852,
reported to Rome in 1822 that there
were twenty-three parish chapels in
the diocese, five of which had been
built since he had become bishop in
1818; unfortunately he does not list
the churches. Keash, then, would
be one of the seventeen pre-1818
chapels in the diocese and was twenty
years before Catholic Emancipation.
This record by Bishop McNicholas,
that there were twenty-three parish
chapels in the diocese, would suggest
that there was at least one church
in each parish in 1822; one would
expect the larger parishes to have
had a second church. Corhownagh
church to the west of Ballisodare is
an early church in the diocese that
is still in use. Barratogher church,
to the west of Toorlestraun, dates to
1753 and it is reputed to have held
700 people; it was replaced in 1814
and that was replaced in 1844 by the
present Toorlestraun church. A chapel
was built in Ballymote in 1725. The
Loftus Hall was built in the 1810s; by
1816 Emlaghfad Vestry had given £90
and £50 towards its construction.
The one detailed pre-Ordnance
Survey map of Sligo is that done for
the Grand Jury by William Larkin.
There is mention of survey work
being done in 1802 but the map was
not engraved until 1819, so what is the
date of its contents?, was it updated? It
shows, by a standard symbol, a cross,
as opposed to a detailed survey, that
there was a church at Fallougher in
Keash. This is independent evidence
that there was a church at Keash by
1819, if not for a decade before that.
The Established Church in the
Parish of Emlaghfad gave £40 before towards Keash chapel. This is
confirmed by a discussion which took
place among the Vestry in 1821 asking
why the pre-1816 payment had not
been publicised. This is independent
evidence that there was a church
at Keash by 1816 and pushes the
evidence back even closer to 1809.
NATURE OF THE CHURCH
Tradition has it that Keash was
originally a single part church, The
Men's House along the road facing
directly to the altar. The Women's
House was a later addition but built
before 1838 as the First Ordnance
Survey map clearly shows both wings.
The depiction of the church is small
but detailed; one wonders if the Men's
House has since been lengthened.
Local tradition emphasises
that the church originally had a sod
roof and that later it was thatched.
This sounds more than the normal use
of rolls of scraw sod being laid grass
side down before thatch was pegged
to it. I can find no record of when the
church was slated.
There is mention that Patrick
Rogers was teaching in the church in
1826.
The roof, with a ceiling
carved by Pat Horan of Derrygola, was
supported by a timber pole. Again,
tradition records that Bartley Mór
Langton, a blacksmith by trade, told
the Horan brothers how to support the
roof using this pole. The sacristy was
added sometime between 1838 and
1888. The two porches were added to
the church during the ministry here of
Fr. P.J. O'Grady, 1912-1920; he also
had the road from the church to the
parochial house repaired. The belfry
was erected in 1908.
The Parochial House  (where Martin and Mary Timoney, presently reside) was
built by Fr. Patrick Scully in 1885
with a grant of £400 from the Board
of Works. It was extended to the
back in 1915 by Fr. P.J. O'Grady
for £600; a porch was added at that
time. The Curate's House, opposite
McDonagh's Shop, now Ward's, was
built in the time of Fr. Patrick Conlon,
here 1888-1891, with a grant of £200.
A new Curate's House was built near
Culfada by 1981.
REPAIRS IN 1977
Canon John Alexander
McGarry was P.P. here from 1973 to
1985. Renovations began in 1977 but
it was discovered that the church was in
much worse condition than expected.
Des Rushe, "Lough Key Country",
Irish Independent, 23 March 1979,
detailed the scale of the problem. The
renovation project was expected to
cost less than £25,000 but escalated
to more than £60,000 because of the
dry rot: roof, floor, seats, altar, and
confessionals of the 170-year old
building were affected and practically
everything in and around the church
had to be renewed or repaired. The
church was almost reduced to a shell.
He says it was built in 1809 by Fr.
FitzMaurice who hid up the chimney
in the Irish College in Paris during the
Revolution. The final cost was about
£86,000. These details are taken from
Rushe's article.
The church was officially
reopened in April 1980; during the
works mass was said in the adjacent
White Hall. The total removal of all
possible sources of dry rot has meant
that early wooden fittings which might
help date the structure were removed
and destroyed; a few mementos have
survived.
There was considerable fundraising both at home and among parish
emigrants abroad including Gaelic
Park in New York in September
1980.
New furniture for the
sanctuary was presented in 1985 in
memory of Fr. Kevin Brehony and the
Drury family.
A car park was made around
1950 opposite the then National
School (now the residence of Kathleen and Gerry Feely). That was improved in late
1970 and extended in 1991. A car
park by the side of the church was laid
in 1991 with a new side access to the
church grounds.
CONCLUSION
None of the independent
lines of information absolutely
confirm 1809 as the date of the
church but collectively they lead to
one conclusion, the church in Keash
was built in 1809. The bi-centenary
celebration is set for August 3rd.,
2009, when Bishop Brendan Kelly
is the principal celebrant with Rev.
James Canon Finan as Master of
Ceremonies.
Further details on the parish are to be
found in Keash and Culfadda, A Local
History edited by John Higgins, Mary
B. Timoney, Br. Thomas Connolly
and John Kielty, and published in
2001. The article for the August 2009
bi-centenary celebrations in Keash
church has been derived from this
article.
Acknowledgements
I thank Rev. James Canon
Finan, Dr. Arnold Horner, Aideen
Ireland, Mary B. Timoney, Patrick
E. O'Brien, May Carty, John
McTernan, Imeda and Jim Killoran,
Padraig Drury, James and Elizabeth
Taheny and James McGill for help in
compiling this article. The published
works of Fr. Liam Swords have been
helpful. Many archaeological and
historian colleagues advised me as
to possible sources but none proved
fruitful. Fr. Tomás Surlis, Pontificio
Collegio Irlandese, and Martin Fagan,
Archivist, Irish College Rome,
provided copy of the McNicholas
letter.
Parish Priests of Keash
.
1683 Miler McDonogh
1704 John McDonogh – Drumrat
1704 James Mulrunifin – Toomour
1731 James Tymon
1738 James McDonogh
1776 John Duffy
1780s ? O'Connor
1786-1796 Owen Banaghan
1796-1831 Richard FitzMaurice
1831-1851 James O'Hara
1851-1870 Constantine Cosgrove
1870-1881 Mark Cook, Adm.
1881-1901 Patrick Scully
1901-1912 Dominick O'Grady
1912-1920 P.J. O'Grady
1920-1925 William Flynn
1925-1928 Edward Henry
1928-1931 James Hyland, Adm.
1931-1944 Michael Connolly
1944-1955 Anthony Durcan
1955-1958 Peter Harte
1958-1973 Edward Gallagher
1973-1985 John Alexander
McGarry
1985-1990 Christopher
McLoughlin
1990- 2013 James Finan
2013 to date Gabriel Murphy
PHOTO GALLERY – EXTERNAL CHURCH AREA
Photo Gallery – Internal Church Photos
Introductory text coming soon.
Photo Gallery – Our Stained Glass Windows
Introductory text coming soon.