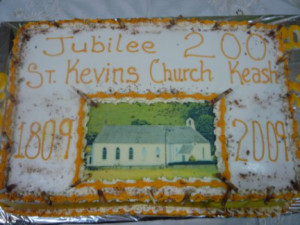 Saint Kevins Church (Keash) is one of the oldest chapels still in use in the diocese, dating from 1809 when Fr. Richard Fitzmaurice was parish priest. A small belfry was erected and blessed by Bishop Lyster in 1908. The two porches were built during the ministry of Fr. P.J O'Grady (1912 – 1920). The church was extensively renovated from 1977 to 1979 during Fr. John A. McGarry's time  when the roof was re-slated, the ceiling lowered and the wooden floor replaced with a cement and tiled floor.  The Church in Keash celebrated its Bi- Centenary in 2009. Bishop Brendan Kelly, Bishop of Achonry (at that time) celebrated mass to mark the occasion.
A grotto in honour of Our Lady of Lourdes was erected in the grounds of St Kevins Church in 1997, dedicated by the Henry family, Greenane (built by John P. Dwyer, Killavil).
Click below to see clips of Fr. Jim Finans Golden Jubilee (Courtesy of Fr. Sherlock), celebrated with mass in St. Kevins Church:-
—————————————————————
KEASH CHURCH ROOF REPORT
Keash Church By Martin A. Timoney (THE CORRAN HERALD 2009/2010, page 17 onwards)
http://ballymoteheritage.com/wp-content/uploads/2016/07/42-2009.pdf
Saturday vigil: January, March, May, July, September and November.
(Summer months 8pm. Winter months 7pm.)
Sunday: 11.30am
Wednesday: 10am
Friday: 8pm.
*Weekday mass times subject to change
Photo Gallery – Internal Church Photos
Introductory text coming soon.
Photo Gallery – Our Stained Glass Windows
Introductory text coming soon.