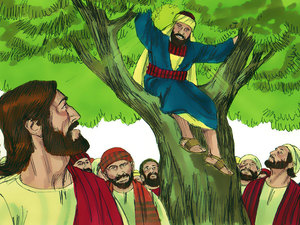 The Gospel – 30th October 2022
Alleluia
R. Alleluia, alleluia.
God so loved the world that he gave his only Son,
so that everyone who believes in him might have eternal life.
R. Alleluia, alleluia.
Gospel
At that time, Jesus came to Jericho and intended to pass through the town.
Now a man there named Zacchaeus,
who was a chief tax collector and also a wealthy man,
was seeking to see who Jesus was;
but he could not see him because of the crowd,
for he was short in stature.
So he ran ahead and climbed a sycamore tree in order to see Jesus,
who was about to pass that way.
When he reached the place, Jesus looked up and said,
"Zacchaeus, come down quickly,
for today I must stay at your house."
And he came down quickly and received him with joy.
When they all saw this, they began to grumble, saying,
"He has gone to stay at the house of a sinner."
But Zacchaeus stood there and said to the Lord,
"Behold, half of my possessions, Lord, I shall give to the poor,
and if I have extorted anything from anyone
I shall repay it four times over."
And Jesus said to him,
"Today salvation has come to this house
because this man too is a descendant of Abraham.
For the Son of Man has come to seek
and to save what was lost."
REFLECTION:-
Zacchaeus was up a tree.  Why?  Practically speaking, he was up a tree because he was short and he wanted to see Jesus as Jesus passed by.  But the symbolism reveals far greater meaning.
The first thing we must note is that Zacchaeus was a wealthy and well respected man.  In the eyes of the world he was successful.  But despite his wealth, it appears there was something missing.  He heard about Jesus and desired to know Him.  This passage is fascinating because it must have been an unusual sight to see a wealthy and successful man climbing a tree in the presence of a large crowd.  In fact, it was so unusual that Jesus immediately noticed it.
Jesus also noticed Zacchaeus because of something far more significant than a grown man climbing a tree.  Zacchaeus was noticed by Jesus primarily because Jesus was able to perceive the desire and openness of his heart.  Zacchaeus, this wealthy and successful man, was missing something and he was zealous to obtain it.  He longed for Jesus and this desire is fulfilled by the compassion of our Lord.
Regardless of whether or not you are "successful" from a worldly point of view, it's essential that you, too, recognize the unfulfilled desire of your heart.  That "unfulfilled desire" refers to any way that God is not fully the centre of your life.  Some people try to fulfill this desire in many worldly ways.  But those who are like Zacchaeus will realize that Jesus is the answer.  And when someone recognizes this fact, they will go to any length necessary to see Him and be with Him.
Reflect, today, upon a simple question: How far am I willing to go to see Jesus?  Are you willing to do anything you have to so as to see Him, hear Him and be with Him?  It may take an act of humility and you may have to act in a radical way.  Doing so will call out to the heart of our Lord and He will respond to you with much generosity just as He did to Zacchaeus.
PRAYER:-
Lord, I desire to choose You above all things.  May I never be drawn to the things of this world more than I am drawn to You.  Increase my desire for You and give me the courage I need to be faithful to You always.  I love You, dear Lord.  Please increase my love.  Jesus, I trust in You.
From Catholic daily reflections.com
https://www.keashparish.ie/wp-content/uploads/2022/10/005-zacchaeus.jpg
225
300
William Henry
https://www.keashparish.ie/wp-content/uploads/2023/05/keash-parish-logo2.png
William Henry
2022-10-29 19:11:43
2022-10-29 19:11:43
Gospel 30th October 2022