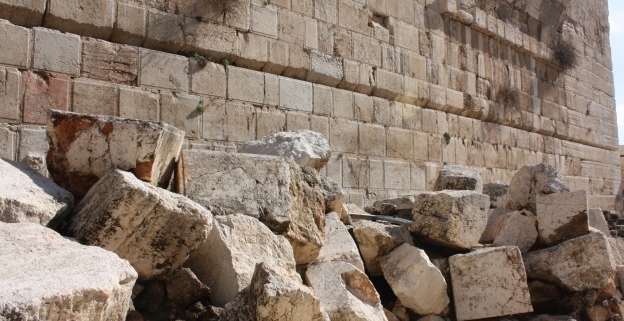 Gospel – Sunday, 13th November 2022
Alleluia
R. Alleluia, alleluia.
Stand erect and raise your heads
because your redemption is at hand.
R. Alleluia, alleluia.
Gospel
While some people were speaking about
how the temple was adorned with costly stones and votive offerings,
Jesus said, "All that you see here–
the days will come when there will not be left
a stone upon another stone that will not be thrown down."Then they asked him,
"Teacher, when will this happen?
And what sign will there be when all these things are about to happen?"
He answered,
"See that you not be deceived,
for many will come in my name, saying,
'I am he,' and 'The time has come.'
Do not follow them!
When you hear of wars and insurrections,
do not be terrified; for such things must happen first,
but it will not immediately be the end."
Then he said to them,
"Nation will rise against nation, and kingdom against kingdom.
There will be powerful earthquakes, famines, and plagues
from place to place;
and awesome sights and mighty signs will come from the sky.
"Before all this happens, however,
they will seize and persecute you,
they will hand you over to the synagogues and to prisons,
and they will have you led before kings and governors
because of my name.
It will lead to your giving testimony.
Remember, you are not to prepare your defence beforehand,
for I myself shall give you a wisdom in speaking
that all your adversaries will be powerless to resist or refute.
You will even be handed over by parents, brothers, relatives, and friends,
and they will put some of you to death.
You will be hated by all because of my name,
but not a hair on your head will be destroyed.
By your perseverance you will secure your lives."
REFLECTION:-
"See that you not be deceived, for many will come in my name, saying, 'I am he,' and 'The time has come.'  Do not follow them!"  Luke 21:8
What an interesting line.  What does this mean?  Who are the "many" that Jesus speaks of?  Are they in our midst today?
It may not be helpful to try to point to this or that person or to this or that group of people in reference to the "many" who will come in Jesus' name falsely.  But it is helpful to speak to some general and guiding principles.
First, Jesus uses the word "deceived."  There will be many false prophets who will have the ability to deceive.  They will portray themselves as messengers of the truth and dispensers of the will of God.  Their words will be convincing and many will follow.
This tells us that not everyone "speaking in the name of God" is in fact speaking in the "name of God."  And even if many others are following, and they are very convincing, this is not proof that the person is a true prophet of the Lord.
How do we discern when someone is speaking from the heart of Jesus?  Ultimately, this can only be done through a state of prayer.  Being in a "state of prayer" means that our hearts are attuned to God's voice.  When God speaks through this or that person and our hearts are tuned into Him, we will simply know His voice as it is spoken through this or that person.
Conversely, when we are living in a state of true prayer and then someone speaks a false and deceiving message, something will not sit well with us.  There will be a sense in the depths of our souls that something is not right.  It will be a spiritual sense and this is a result of the healthy working of our conscience.  There are external guides such as the revealed teaching of the Church and the counsel of other good Christians, but in the end we must allow God to speak within our consciences and follow His voice in this holy sanctuary.
Reflect, today, upon whether or not you daily seek out and hear God speaking to you in the depths of your conscience.  Listen closely and attentively.  Learn His voice and seek to hear Him speak through other people.  And when the voice of others is in opposition to the voice speaking within your soul, remain faithful to God speaking within you.  It is there, more than any other place, that He will lead you.
PRAYER:-
Lord, give me the grace to know and hear Your voice.  I choose You above all things and desire to know You more clearly.  May I follow You now and always in my life and may I never be deceived by the many false prophets of our day and age.  Jesus, I trust in You.
From Catholic Daily Reflections.com
https://www.keashparish.ie/wp-content/uploads/2022/11/slide6.jpg
468
624
William Henry
https://www.keashparish.ie/wp-content/uploads/2023/05/keash-parish-logo2.png
William Henry
2022-11-12 16:54:34
2022-11-12 16:54:45
Gospel 13.11.2022