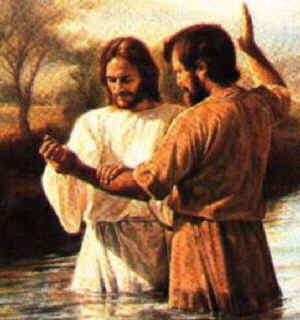 Sunday, 4th December 2022
Alleluia
R. Alleluia, alleluia.
Prepare the way of the Lord, make straight his paths:
all flesh shall see the salvation of God.
R. Alleluia, alleluia.
Gospel
John the Baptist appeared, preaching in the desert of Judea
and saying, "Repent, for the kingdom of heaven is at hand!"
It was of him that the prophet Isaiah had spoken when he said:
A voice of one crying out in the desert,
Prepare the way of the Lord,
make straight his paths.
John wore clothing made of camel's hair
and had a leather belt around his waist.
His food was locusts and wild honey.
At that time Jerusalem, all Judea,
and the whole region around the Jordan
were going out to him
and were being baptized by him in the Jordan River
as they acknowledged their sins.
When he saw many of the Pharisees and Sadducees
coming to his baptism, he said to them, "You brood of vipers!
Who warned you to flee from the coming wrath?
Produce good fruit as evidence of your repentance.
And do not presume to say to yourselves,
'We have Abraham as our father.'
For I tell you,
God can raise up children to Abraham from these stones.
Even now the ax lies at the root of the trees.
Therefore every tree that does not bear good fruit
will be cut down and thrown into the fire.
I am baptizing you with water, for repentance,
but the one who is coming after me is mightier than I.
I am not worthy to carry his sandals.
He will baptize you with the Holy Spirit and fire.
His winnowing fan is in his hand.
He will clear his threshing floor
and gather his wheat into his barn,
but the chaff he will burn with unquenchable fire."
This was both a very intense and yet very holy encounter. It was intense in that Saint John the Baptist, who had become quite popular and respected and was considered a great prophet, spoke harshly toward the Pharisees and Sadducees. "You brood of vipers!" he says. This was not the way the Pharisees and Sadducees were normally spoken to.
John speaks this way because it was the truth. These religious leaders were not leading anyone closer to God. One only needs to ponder all that Jesus would eventually say to the Pharisees and Sadducees to understand what kind of people these religious leaders had become.
So this passage is certainly intense. But it is also very holy. It is holy because this "brood of vipers" needed to be chastised. They needed to be condemned and challenged. They needed to be humbled. And there is nothing more humbling than sincerely repenting of one's sins in a public way.
Notice that John does not dismiss the leaders outright. Rather, he requires of them "evidence" of their repentance. Why? Because of the spiritual damage these men did to the people of Israel on account of their pride, self-righteousness, hypocrisy, love of public honors, condemnation of others, etc. They had so distorted the faith that the good of their souls required public repentance. It required that everyone see sincere good fruits flowing from their lives as a sign that they had changed. Though this is a tall order for the Pharisees and Sadducees, it's the way to holiness for them.
The same is true for us. If you have allowed yourself to fall into some of the same traps as the Pharisees and Sadducees, then you, too, will greatly benefit from clear and humble public change. If you have struggled with self-righteousness, a critical tongue, a "holier than thou" attitude or a judgmental attitude toward others, then you might have great need for a humble and public repentance.
Reflect, today, upon the Pharisees and Sadducees. Try to understand their sin and the reason John called them a "brood of vipers." If you see any of their pride and self-righteousness within your own soul, then listen to this exhortation from John the Baptist as if it were spoken to you directly. "Produce good fruit as evidence of your repentance." Do this, and God will free you through the gift of true humility.
PRAYER:-
My humble Lord, You call all people to repentance with great humility and sincerity. Please help me to see my sin and to never shy away from facing it, so that You can free me from that filth and set me more firmly on the path to holiness. Jesus, I trust in You.
https://www.keashparish.ie/wp-content/uploads/2022/12/baptism.jpg
320
300
William Henry
https://www.keashparish.ie/wp-content/uploads/2023/05/keash-parish-logo2.png
William Henry
2022-12-03 21:02:07
2022-12-03 21:02:07
Gospel 4.12.2022