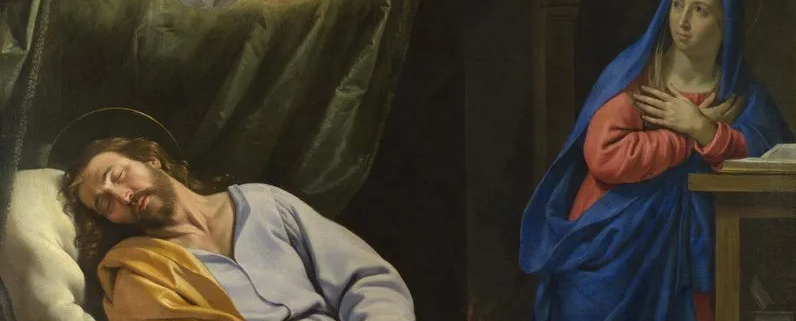 Gospel and reflection 18.12.2022
The Gospel – 18th December 2022
Alleluia
R. Alleluia, alleluia.
The virgin shall conceive, and bear a son,
and they shall name him Emmanuel.
R. Alleluia, alleluia.
Gospel
This is how the birth of Jesus Christ came about.
When his mother Mary was betrothed to Joseph,
but before they lived together,
she was found with child through the Holy Spirit.
Joseph her husband, since he was a righteous man,
yet unwilling to expose her to shame,
decided to divorce her quietly.
Such was his intention when, behold,
the angel of the Lord appeared to him in a dream and said,
"Joseph, son of David,
do not be afraid to take Mary your wife into your home.
For it is through the Holy Spirit
that this child has been conceived in her.
She will bear a son and you are to name him Jesus,
because he will save his people from their sins."
All this took place to fulfill what the Lord had said through the prophet:
Behold, the virgin shall conceive and bear a son,
and they shall name him Emmanuel,
which means "God is with us."
When Joseph awoke,
he did as the angel of the Lord had commanded him
and took his wife into his home.
REFLECTION:-
As we begin the Fourth Week of Advent, we focus ever more directly upon the miracle that took place over 2,000 years ago. The passage quoted above presents us with the words of the angel of the Lord who spoke to Joseph in a dream. This was one of four dreams that Joseph had in which an angel spoke to him concerning the Christ Child.
God's plan was so much greater than what Joseph could initially comprehend. The Incarnation of the Son of God within the womb of his betrothed required supernatural understanding. And that's what Joseph was given. Joseph listened in the dream and believed by the interior revelation of faith that this incredible reality was true.
Joseph's witness is one to ponder and be inspired by. First, it's essential that we ponder the story as it happened and be inspired by God's singularly unique plan by which He took on our human nature. But Joseph also provides us with inspiration for our own callings in life. Joseph inspires us to face any and every mystery in life that we encounter with the utmost trust in God. God's wisdom and ways are always far beyond ours. Very often in life, God will call us to walk an unknown and mysterious path. Life does not always make perfect sense from a purely rational perspective. Very often, we must allow our human reason to be informed and led by God's supernatural plan. For each of us, this mysterious path will be different. But if we are to walk by the same faith that Saint Joseph had, then we must always be willing to accept the most sublime mysteries in life and allow God's revealing Word to clarify them.
PRAYER:-
Most glorious Saint Joseph, you were a man of true righteousness and integrity. You were open to the inspired gift of faith and chose to walk by that faith as you faced the greatest of mysteries. Please pray for me that I may learn from you and be inspired to imitate the life that you lived. Saint Joseph, pray for us. Jesus, I trust in You.
https://www.keashparish.ie/wp-content/uploads/2022/12/matthew-1-18-24-reflection-philippe-de-champaigne.webp
1080
796
William Henry
https://www.keashparish.ie/wp-content/uploads/2023/05/keash-parish-logo2.png
William Henry
2022-12-17 20:17:14
2022-12-17 20:17:14
Gospel and reflection 18.12.2022