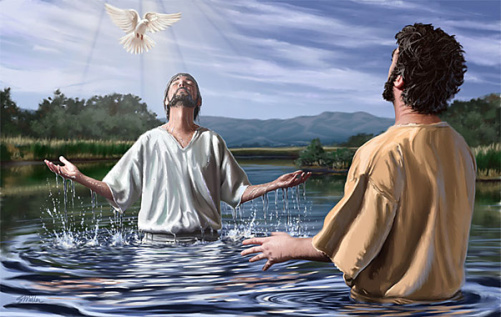 The Gospel – 8th January 2023
8th January 2023 – Sunday
Matthew 3:13-17 for The Baptism of the Lord
'This is my Son, the Beloved'.
Jesus came from Galilee to the Jordan to be baptised by John. John tried to dissuade him. 'It is I who need baptism from you' he said 'and yet you come to me!' But Jesus replied, 'Leave it like this for the time being; it is fitting that we should, in this way, do all that righteousness demands.' At this, John gave in to him.
As soon as Jesus was baptised he came up from the water, and suddenly the heavens opened and he saw the Spirit of God descending like a dove and coming down on him. And a voice spoke from heaven, 'This is my Son, the Beloved; my favour rests on him.'
REFLECTION
Saint Paul says that at our baptism, Christ has wrapped himself around us, and, having done so, he won't let us go lightly.
The risen Lord blesses us in a most wonderful way at our baptism, which blessing remains with us throughout our lives.
We never cease to be baptised, regardless of what we have done or failed to do, or how far we may have drifted from the Lord.
Our faith may sometimes seem feel like a wavering flame, but the risen Lord is always at work in our lives to fan the sometimes feeble spark of our faith into a living flame. We just need to answer his call.
Similarities arise as between the Lord and a sat nav in a car. We go wrong in our journey. The sat nav simply resets in it's efforts to help us complete that journey. The Lord does like wise in His efforts in helping us navigate our journey through life.
https://www.keashparish.ie/wp-content/uploads/2023/01/jesus-baptism.jpg
317
501
William Henry
https://www.keashparish.ie/wp-content/uploads/2023/05/keash-parish-logo2.png
William Henry
2023-01-07 22:09:15
2023-01-07 22:09:15
The Gospel – 8th January 2023