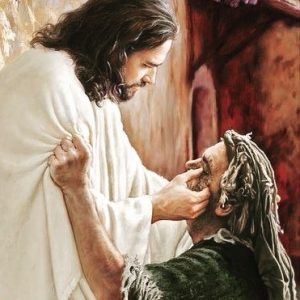 The Gospel – 19th March 2023
Sunday, 19th March 2023
Fourth Sunday of Lent
The Gospel
JN 9:1, 6-9, 13-17, 34-38
As Jesus passed by he saw a man blind from birth.
He spat on the ground and made clay with the saliva,
and smeared the clay on his eyes, and said to him,
"Go wash in the Pool of Siloam" — which means Sent —.
So he went and washed, and came back able to see.
His neighbors and those who had seen him earlier as a beggar said,
"Isn't this the one who used to sit and beg?"
Some said, "It is, "
but others said, "No, he just looks like him."
He said, "I am."
They brought the one who was once blind to the Pharisees.
Now Jesus had made clay and opened his eyes on a sabbath.
So then the Pharisees also asked him how he was able to see.
He said to them,
"He put clay on my eyes, and I washed, and now I can see."
So some of the Pharisees said,
"This man is not from God,
because he does not keep the sabbath."
But others said,
"How can a sinful man do such signs?"
And there was a division among them.
So they said to the blind man again,
"What do you have to say about him,
since he opened your eyes?"
He said, "He is a prophet."
They answered and said to him,
"You were born totally in sin,
and are you trying to teach us?"
Then they threw him out.
When Jesus heard that they had thrown him out,
he found him and said, "Do you believe in the Son of Man?"
He answered and said,
"Who is he, sir, that I may believe in him?"
Jesus said to him,
"You have seen him, and
the one speaking with you is he."
He said,
"I do believe, Lord," and he worshiped him.
REFLECTION:-
This is the conclusion to the story of the healing of the man born blind. It is the fifth of seven signs (miracles) in John's Gospel that point to the divinity of our Lord.
Jesus was the Light Who came to dispel all darkness, and now He illustrates this fact by opening the eyes of the blind man. This story is quite long and detailed. The details it includes makes it much more than a miracle. It is also a dramatic story revealing both the consequences of rejecting Jesus, as well as the blessings received by one who turns to Jesus in faith.
We begin with the detail that this man has been blind since birth. It was a common misconception at that time that such a birth defect might have been caused by the sins of the parents. In part, this came from a misreading of Exodus 20:5–6 in which God said that He inflicts punishment "on the children of those who hate me, down to the third and fourth generation." Jesus makes it clear that this was not the case; this man's blindness was a result of the natural disorder experienced by humanity as a result of original sin. If humanity had never been cast out of the Garden of Eden, disease and natural disorders would have never existed. For that reason, we should understand that we are all "blind" in the sense of being born into the state of original sin and are, therefore, in need of the grace of spiritual sight.
After the man is healed, a very interesting drama unfolds. The Pharisees hear of the healing and begin to interrogate the man. Afterwards, they also interrogate the man's parents and then the man for a second time. Throughout their interrogations, two things happen. First, the Pharisees slowly become more agitated, more irrational and end by completely rejecting both this miraculous sign and Jesus Himself.
The dramatic unfolding of this story teaches us that when we are given the grace of God by hearing His holy Word spoken and witnessing His mighty hand at work, we must make a choice. Either we will respond in faith and slowly be drawn deeper into that faith, or we will rationalise it away and reject God's saving action in our lives.
It is not possible to simply remain indifferent to the Gospel when we hear it spoken or when we see its effects changing us or others.
Say to our Lord, "I do believe, Lord." Apply those words to every action of Jesus in your life, understanding his true presence with you.
PRAYER:-
Jesus, Light of the World, You came to dispel the darkness caused by original sin. You came to heal our blindness and open the eyes of our souls to Your true Light. Please open my eyes so that I may see, and give me the courage I need to profess my faith in You and worship You with all my heart. Jesus, in you I trust.
https://www.keashparish.ie/wp-content/uploads/2023/03/Jesus-puts-mud-on-blind-mans-eyes-300x300-1.jpg
300
300
William Henry
https://www.keashparish.ie/wp-content/uploads/2023/05/keash-parish-logo2.png
William Henry
2023-03-18 18:08:35
2023-03-18 18:08:35
The Gospel – 19th March 2023