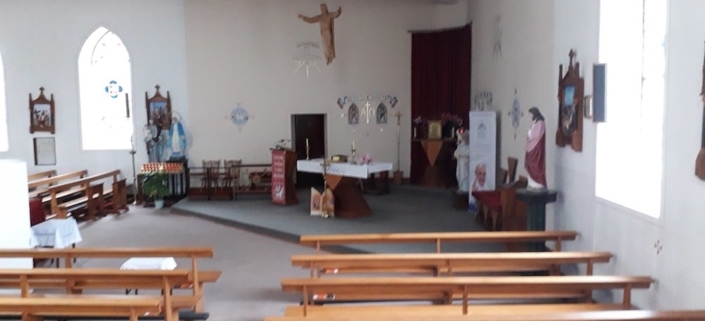 St Kevin's Church Keash – invitation to view works to date – Sunday 6th of March 4pm-6pm.
We as a parish have travelled a considerable journey in restoring Keash Church, the oldest Church in existence within the Diocese of Achonry. We started out with replacing the roof of the Church in September 2019 and have now completed the Heating and Electric works, to include lighting. We have erected a new wall along the road of the church, together with new footpaths and gates. We have insulated the attic and carried out extensive works within the sacristy.
It is now time to bring this project to completion. It is important that the people of the Parish have an opportunity to witness the works completed on the church inside and outside with a view towards having it finalised. The Church in Keash will be opened between the hours of 4pm and 6pm on Sunday the 6th of March next, where the people of our parish are invited to attend and to reflect on the works completed and give their views to what they would like to see in finishing out the works. Tea and Coffee with light refreshments will be served.
The peoples views are sought as to whether they want to paint the Church, put down new carpet (or not) and as to what finish they feel appropriate for the Sanctuary. If the Sanctuary is left without any significant additional  works, then it is possible that the Church might open earlier. When the seats go back into the Church, they will be fixed to the floor; therefore, it is important that a final decision on painting and carpet are made before the seats return to the Church.
If the people feel that the Sanctuary be fitted with the 'Reredos' circulated recently, then the works will take a little longer and a more specific time frame and costing will be shared with the people in due course.                                        It would be wonderful that both parts of our Parish have Churches to be proud of and ones that will have a future in one form or another.
It is important however that the people have an input into the finish they want for the Church in Keash. The people have supported these works in many ways to date, financially and otherwise.  I want to express my deep gratitude for this support. These works could not have happened without the good people of this parish. The condition of the church is a reflection of the faith of the people. I understand parts of this journey have been frustrating and the world of covid, did not help.  I assure you that I have felt that frustration also but I have continually asked the Lord for direction and the hope that this journey would ultimately prove successful. I hope the people reflect of this journey with pride and satisfaction. The journey is almost complete. I look forward to meeting you all on the 6th of March next.
https://www.keashparish.ie/wp-content/uploads/2022/02/20180820_112401-705x529-1.jpeg
529
705
William Henry
https://www.keashparish.ie/wp-content/uploads/2018/10/keash-parish-logo2.png
William Henry
2022-02-19 17:13:02
2022-02-19 17:13:02
Invitation - Keash Church