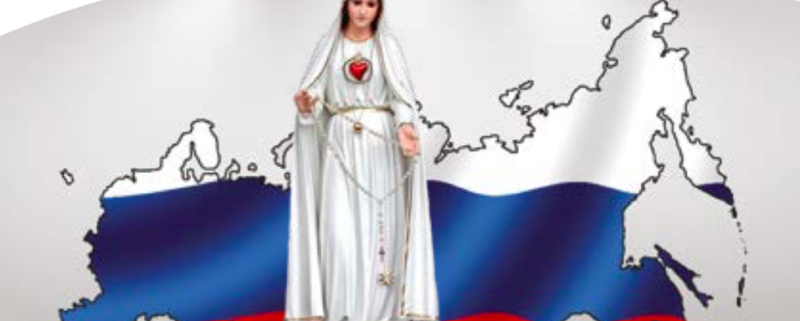 Consecration of Russia and Ukraine
The Vatican just announced,  that on Friday the 25th of March,  at 5 pm. , during the Celebration of Penance in Saint Peter's Basilica,  Pope Francis will consecrate Russia and Ukraine to the Immaculate Heart of Mary.  The same act,  on the same day,  will be carried out in Fatima by His Eminence Cardinal Krajewski,  Apostolic Almoner,  as envoy of the Holy Father.
In 1984, Pope John Paul the second also consecrated Russia and the world to the Immaculate Heart of Mary on the 25th of March.  This date is the Solemnity of the Annunciation of the Lord or Incarnation of Jesus in Mary's womb.
the Latin Rite Catholic bishops of Ukraine sent a letter to Pope Francis,  at the beginning of March,  asking him to consecrate Ukraine and Russia to the Immaculate Heart of Mary.
It was at Fatima during the apparitions in 1917, that the Blessed Virgin Mary revealed three secrets.  One of the secrets as recalled by visionary Sister Lucia,  was that Our Lady asked for "the Consecration of Russia to my Immaculate Heart,  and the Communion of reparation on the First Saturdays" to prevent a second world war.
In a letter written in 1989, Sister Lucia confirmed that Pope John Paul the second satisfied Our Lady's request for Russia's consecration in 1984. In the apparition of July 1917 in Fatima,  Our Lady  stated that if this request were not granted,  Russia would spread "its errors throughout the world,  promoting wars and persecution of the Church. "
This re-consecration will hopefully bring peace.
https://www.keashparish.ie/wp-content/uploads/2022/03/screen_shot_2019-06-13_at_9.58.30_pm.png
450
800
William Henry
https://www.keashparish.ie/wp-content/uploads/2023/05/keash-parish-logo2.png
William Henry
2022-03-16 06:38:09
2022-03-16 06:38:09
Consecration of Russia and Ukraine