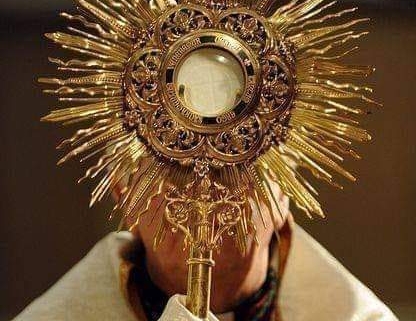 Exposition of the Blessed Sacrament
EXPOSITION OF THE BLESSED SACRAMENT:
(1) Why does the Catholic priest cover his hands during the exposition ?
(2) Is the hands of the priest unworthy to touch the blessed sacrament ?
(3) But isn't the priest that gives the holy communion with his bare hands during Mass ?
Benediction, Eucharist Adoration, Exposition of the Blessed Sacrament is the devotion to the Blessed Sacrament hosted in the Monstrance in solemn worship.
This is led only by a priest or a deacon. During this solemn worship, It is Jesus Christ Himself who blesses the people including the priest who have assembled to avail themselves to God.
The priest/deacon who presides over the exposition of the blessed sacrament does not bless the people. He holds the blessed sacrament, the Lord Jesus Christ and exposes Him to the people. Rather, it is Christ Himself who is present in the blessed sacrament that blesses the people.
Therefore, in order to signify that the priest is not the one that blesses the people, he covers his hands with a veil cloth that drops over his shoulders during this solemn worship.
The hands of the priest are certainly not unworthy to touch the blessed sacrament, BUT for the purpose of this adoration, the priest is not supposed to substitute or take the place of Jesus Christ, hence he covers his hands and from the shoulders down.
Remember that it is those same hands of the priest that blesses the consecrated body and blood of Christ which the communicants receive during the Holy Sacrifice of the Mass.
https://www.keashparish.ie/wp-content/uploads/2022/04/FB_IMG_1648952436789.jpg
640
416
William Henry
https://www.keashparish.ie/wp-content/uploads/2023/05/keash-parish-logo2.png
William Henry
2022-04-03 03:22:57
2022-04-03 03:22:57
Exposition of the Blessed Sacrament